Waar staan Van Goghs kleuren voor?
The best way to understand Vincent van Gogh is probably by reading his letters. After all that's where he wrote extensively how he felt. Unless he didn't always write how he actually felt. Van Gogh seems very honest when he wrote to his sister Willemien:

'We need good cheer and happiness, hope and love. The uglier, older, meaner, iller, poorer I get, the more I wish to take my revenge by doing brilliant colour, well arranged, resplendent'.

Was Van Gogh not sincere half a year later when he wrote to his brother from the asylum showing a paining with bright colors? Or had the meaning of Van Gogh's colors changed?
Today 133 years ago, between 31 May and 6 June 1889,
Vincent van Gogh wrote to Theo from Saint-Rémy-de-Provence:

"When you receive the canvases I've done in the garden you'll see that I'm not too melancholy here."

One of these paintings is:

The garden of the asylum
Saint-Rémy-de-Provence, 1889
Oil on canvas
91,5 x 72 cm
Kröller-Müller Museum, Otterlo, The Netherlands

You may also like to read: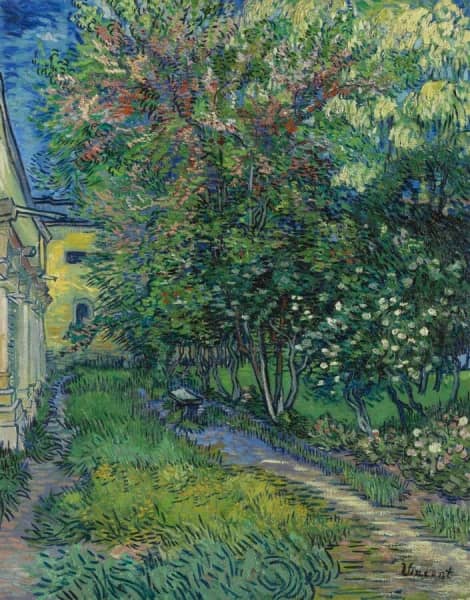 Van Gogh's 'The garden of the asylum'
Your daily dose of Van Gogh.
<< previous
|
next >>